No need to worry about waking up or upsetting your babies while you check their temperature. This Non-Contact Digital Infrared Thermometer measures the temperature of the human body by using the principle of receiving infrared. This helps you check your children's forehead temperature at a distance without disturbing them.
PRODUCT FEATURES:
HIGH ACCURACY & FAST -

 

With the most advanced infrared technology, the Forehead Baby Thermometer can acquire the aimed temperature quickly, analyzing the data intelligently and displaying the result within 0.5 seconds. Enjoy Hospital Grade Accuracy at your home, clinic or workplace!
TWO MODES -

 

Body mode for measuring body temperature; Surface mode for measuring object surface temperature (for example: bathwater, food, and milk, etc.)
CONVENIENT MEMORY FEATURES - You can store up to 32 sets of readings for better tracking of the changes of body temperature & supports clinical febrile diagnosis.
LARGE SCREEN & TEMPERATURE ALARM - You can freely set the alarm temperature according to your own situation. Large-screen LCD display, white backlight, can be clearly displayed under any light. 
EASY TO USE -

 Press the measure button, and the result will be displayed in one second.

Quiet mode tympanic scanning with the push of a button allows you to take instant scans of your baby without a beeping noise that may wake them.
SAFE -

 

It does not cause any uncomfortable and breed bacteria with the creative design non-contact any part of the body, especially for baby and elder.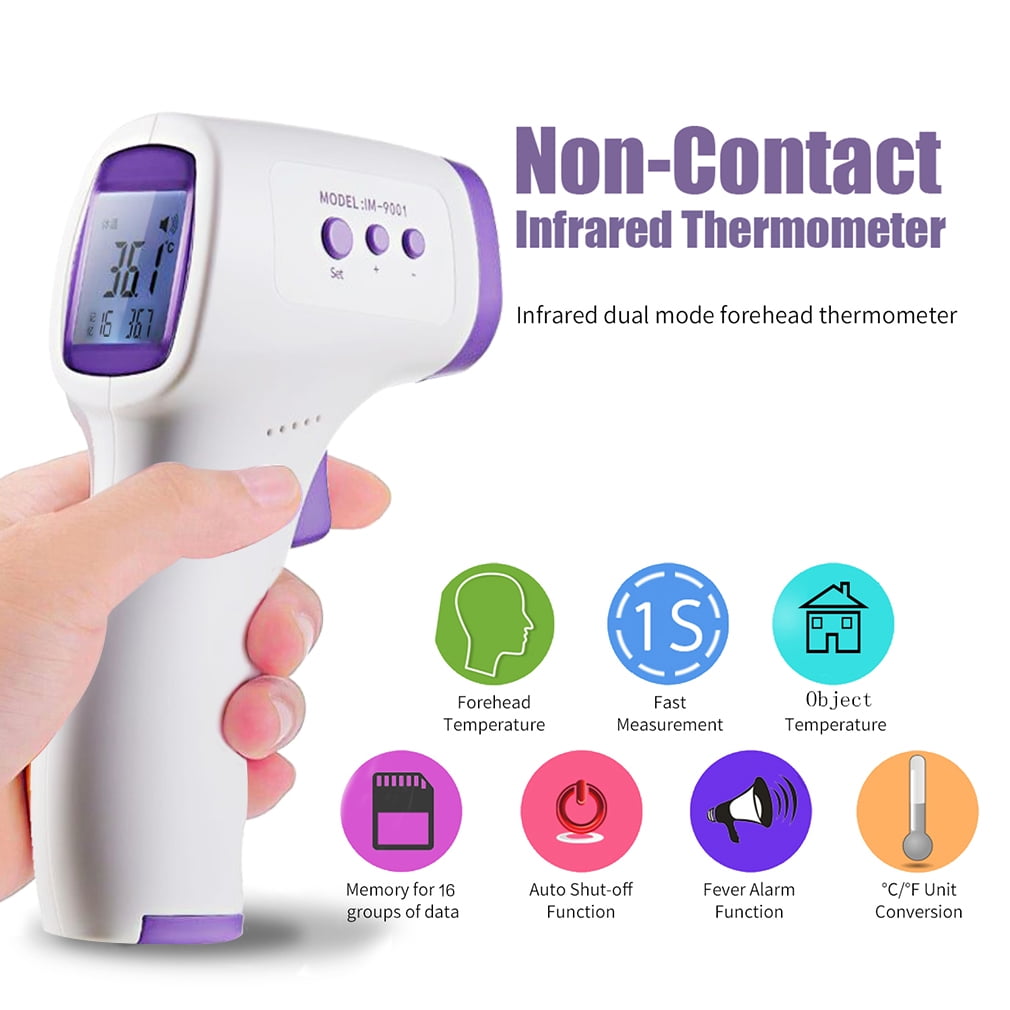 SPECIFICATIONS:
Material: ABS Plastic
Power Supply: 2 x AAA Batteries (not included)
Product Size: 150 * 95 * 44 mm 
Body Temperature Measurement: 32.0-42.9°C / 90-109.4°F
Surface Temperature Measurement: 0-60°C / 32-140°F
Measurement Distance: 5 to 15 cm
Auto-shutdown Time: About 7 seconds
Accuracy: (+/-)0.2°C 

(0.6°C error is allowed due to the infrared test and environment effect)
PACKAGE INCLUDES:
1 x Non-contact IR Thermometer
This section doesn't currently include any content. Add content to this section using the sidebar.